The Benefits of Data-driven Business Transformation

Makes your business more resilient

Easier decision making

Connects people and the organization

Mitigates risks

Increases productivity

Improves customer experience

Increases business value
We transform businesses for the better –
Data and beyond!
Data-driven transformation model helps businesses achieve value faster, understand the organization,
employees, and clients better. Better understanding builds better relationships.
Simplify your decision making
Predictive analytics powered by AI helps identify the siloes, trends and patterns, adn delivers actionable insights simplifying your decision making process.
---
Increase cost efficiency
Evaluate past, present and forecasted performance. Run competitor analysis and decide on future investments and ideal pricing points.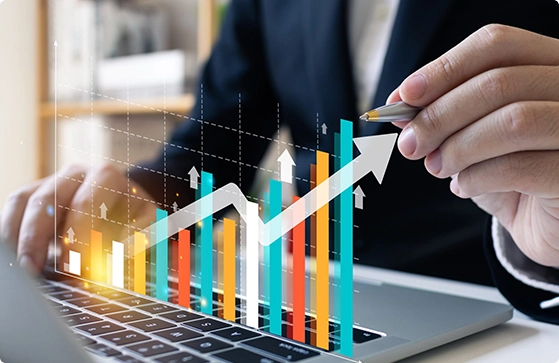 ---
Mitigate risks
Forecast sales and ROI with predictive analytics. Develop a sturdy business plan with actionable insights and KPIs.